The HKRF, in conjunction with it's partner site, The Hong Kong Racing Journal, provides you with the BEST ARSENOL of FREE TOOLS to effectively and efficiently analyze Hong Kong Racing.

* NEW . . . the HK Racing App Modules *

Currently available in Excel©, the HK SUPER CARD & HANDICAPPING MODULES comprise a series of unique and comprehensive tools which have powerful sorting and filtering features. In addition, users receive the HKRF's TIPS along with suggested Markets for each horse.

Download your FREE RACING APPs » Click Here for APPs & More!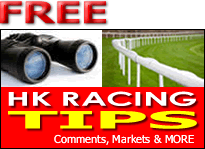 » 2014-15 RACE DATES
(1-page PDF Format)

» Super Card 06-07-2014 XLS
» Super Card 06-07-2014 (PDF)

» Chinese XLS 06-07-2014
» Chinese PDF 06-07-2014



» TIPS 06-07-2014 (PDF)
» July 6th Speed Maps ~ FREE
by Email!
» Overview - Analysis Tools